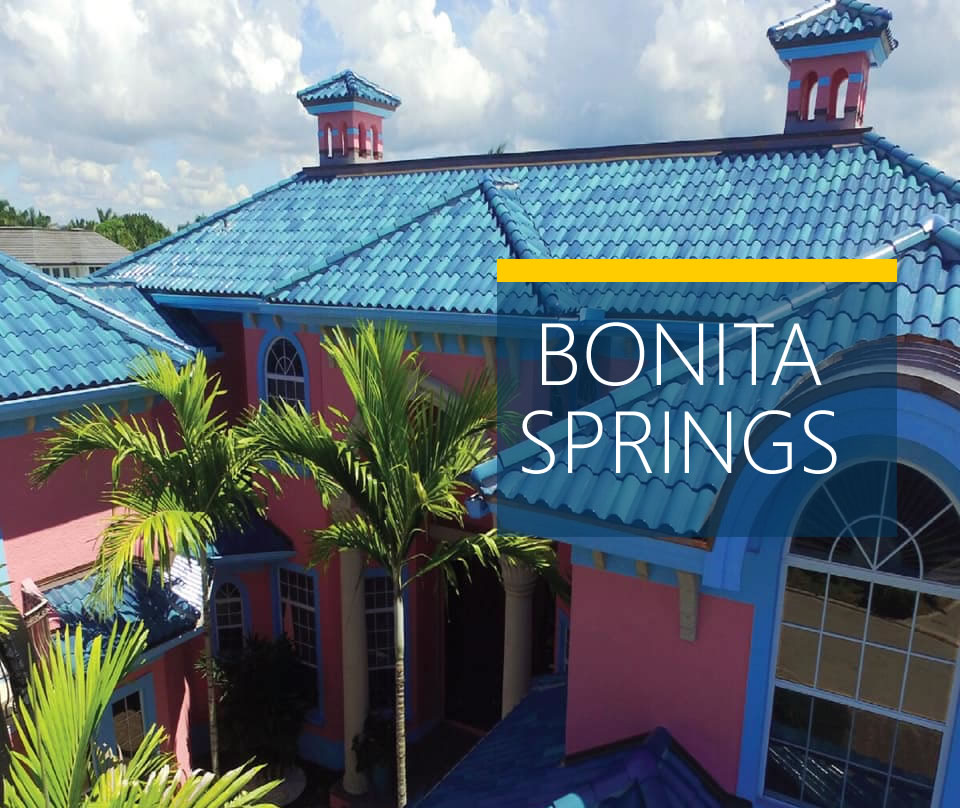 Roof Repair in Bonita Springs
Roof repair in Bonita Springs is normally part of a residential or commercial renovation service that helps in maintaining or protecting the integrity of the roofing materials. CMR Construction & Roofing is pleased to offer 100% reliable roof repair in Bonita Springs at budget-friendly costs. Call us now at 855-766-3267 to schedule roofing services in Bonita Springs.
At some point, even the most durable roof will require maintenance roof repair services. Tile and metal roofing material are built to withstand strong hails and storms but aging metal and tile roofing must be well-maintained to ensure that they keep up with their duties. When you don't schedule maintenance roof repair, your roof may suffer from insulation problems, mildew, mold, fungi, and leakages.

Reasons Why You Should Hire CMR Construction & Roofing for Roof Springs Repair, Replacement, and Installation
Our Bonita Springs roof repair starts with inspection procedure. The purpose of the inspection before Bonita Springs roof repair is to check for dents and bruises on the roof, missing shingles, and pulled-away downspouts among other reasons. Our roofing company is one of those roof installation companies that take inspection steps serious during roof replacement and roof repair services.
Some dents and bruises are visible on the roof and many are not. An additional inspection before roof replacement or repair of the tile or metal roofing will help discover dents and bruises before they deplete the lifespan of the roof.
If your roof is missing in some shingles, they will require immediate roof replacement service from the roofer to prevent damage to the underlayment. Missing shingles must be taken care of during metal or tile roofing to prevent a reduction in roofing insulation.
The roofer will also check the downspouts of the roof during roof replacement or installation. Since Downspouts of the roof are the main protection mechanism against rainstorms and other natural disasters, there must be a realignment of the downspouts to ensure that they remain effective as they can.

Contact CMR Construction & Roofing for All Roofing Needs
Are you constantly in search of rood repair near me? CMR Construction & Roofing is the roofing company that can provide a personalized and comprehensive answer to your roofing problems. We offer genuine and durable products for our roof installation service, and our services including replacement parts do come with a guaranty. In addition to tile and metal roof types, we do provide roofing installation, repair and replacement services for any kind of roof materials you have.
We offer trustworthy services and emergency roofing repair services to ensure that you have peace of mind always. If you consider the costs of waiting to replace damage shingles, you will end up spending more than you could have spent. Contact us today if you suspect your roof is losing its integrity and we will come and inspect them. Perhaps you should schedule maintenance roof repairs if you want to beat all structural damages to the roofs. We provide honest and transparent services, that is why we don't charge you outside of the price quotes we give initially before the commencement of our services. Call us today and we will help you.
Reviews for Bonita Springs, FL
Jackie Britt

–

Bonita Springs

,

FL


Overall Experience:

5

/

5
Greg Bertels and Nathalie Monroe finished our home in less than 6 months after Hurricane Michael left its destruction. We have a new and gorgeous roof and gutters. The interior walls and ceilings look fantastic. Thanks to both of you, I would and have recommended you to all I know that need your help. Jackie and Larry Britt