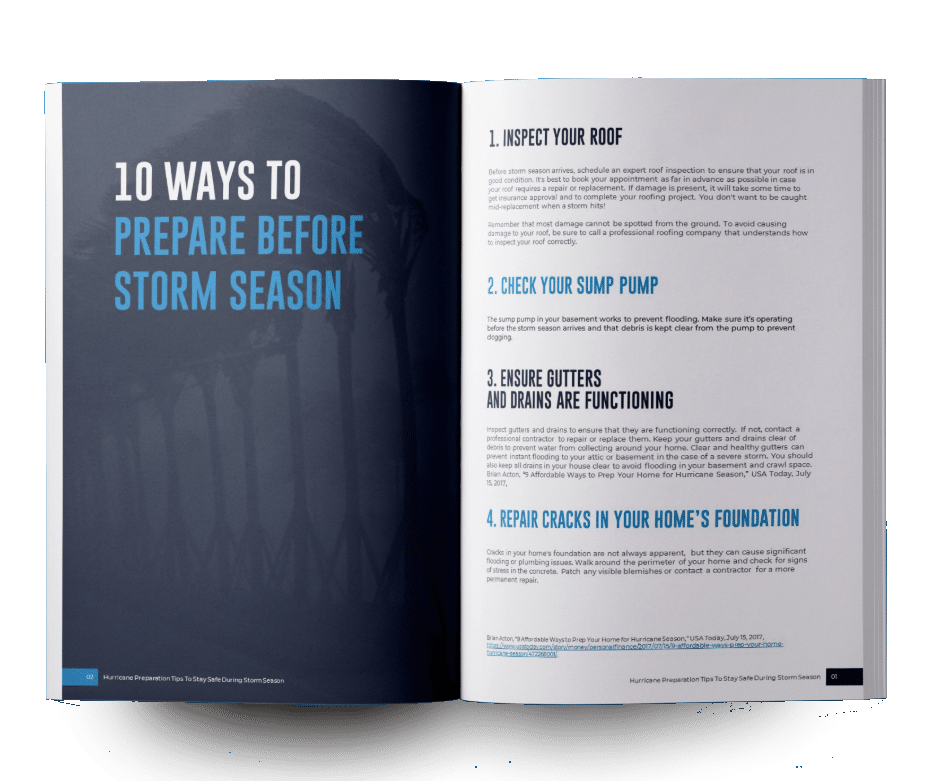 Our Hurricane Preparation Tips help you stay safe.
No matter how many times we live through it, hurricane season can be a terrifying time for homeowners and communities.
Here are some tips to prepare for severe storms.
We've included steps you can take before the storm season comes.
We serve families and business owners recovering from catastrophic storm damage.
We help people resume their lives as quickly and easily as possible, under a beautiful new roof.
CMR is dedicated to keeping our community safe and beautiful.
We are always here to help you prepare for storm season and recover from hurricane damage. Give us a call to set up a free roof inspection (855) ROOF-CMR.
Damaging weather can hurt your roof,
leading to even worse damage.
CMR Construction covers wide areas of the United States
and has expert staff that can get your life back to normal.
Tropical Storms
Tropical storms are a never-ending threat to your home. High force winds and torrential rains can ruin your roof.
Hail
Hail is a constant threat in certain places in the country at certain times of year and impossible to predict.
Thunderstorms
Severe thunderstorms can destroy your roof or worse. Professionals like CMR Construction on your side.
Tornados
The central or middle part of the United States is home to tornados that can destroy your roof or worse.
Understand the risk
associated with storm damage.
It's important to address immediate vulnerabilities associated with
storm damage, before they become very expensive problems.
Storm Damage Roof Repair.
CMR Roofing has you covered.
Having your home damaged by a severe storm can be a terrifying feeling.
You need expert home repair professionals like CMR Construction on your side to get your life back on track.
We take great pride in our exemplary performance
and pay close attention to customer satisfaction.
Our success is based on long-term relationships with satisfied clients
who expect and receive exceptional quality at consistently fair prices.
Professionalism
Very professional, does what he says he is going to do , On time for meetings. No pushy sales tactics. So far so good.
Customer Support
Very pleased with MarkBurkhalter always return my calls. Took a while to get my roof but that is understandable as soon as my tile came in less than a week my roof was up. To remove the tile they did it in one day so far i am very pleased with CMR and Mark.
Thank you.
Vince Grant and the crew at CMR did a great job replacing my roof on Marco Island. I was one of the first people in my neighborhood to get a full tile replacement after hurricane Irma. Glad I made the choice to go with them.
CMR offered a free roof inspection. Milton was great — he was thorough, fair and honest. He sent images and walked me through the process. It was a pleasure to work with this company!